Axone - (2019) - Netflix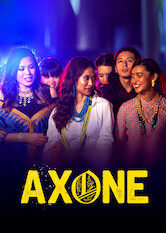 Hur du avblockerar alla filmer och TV-program på Netflix Inga saker var du är
1h40m -
Comedies
In Delhi, friends from Northeast India prepare a pungent delicacy for a wedding party, sparking conflict and comedy with their unaccustomed neighbors.
Director:

Nicholas Kharkongor

Cast:

Sayani Gupta

,

Lin Laishram

,

Tenzing Dalha

,

Dolly Ahluwalia

,

Vinay Pathak

,

Lanuakam Ao

,

Rohan Joshi

,

Adil Hussain

,

Asenla Jamir

Netflix Rating:

7.1/5
Rotten Tomatoes Score:
NA
Countries Available in:

Inte tillgängligt där du bor? Lär dig hur du låser upp Netflix och titta på den här titeln.

Available Since:
2020-11-03
Trailer:
Similar Titles:

Synopsis:
Follows a group of girlfriends from Assam and Meghalaya, north-eastern states in India, gathering in the back streets of Delhi to throw a secret wedding party for a soon-to-be bride. ...
Andra titlar som visas just nu