The Mountain Between Us - (2017) - Netflix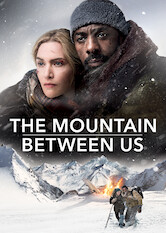 Hur du avblockerar alla filmer och TV-program på Netflix Inga saker var du är
1h51m -
Dramas
After their charter plane crashes on a snowy mountain, two strangers must band together to live–but find their connection goes beyond simply surviving.
Director:

Hany Abu-Assad

Cast:

Kate Winslet

,

Idris Elba

,

Dermot Mulroney

,

Beau Bridges

,

Linda Sorenson

,

Vincent Gale

,

Marci T. House

,

Dania Nassar

Netflix Rating:

6.4/5
Rotten Tomatoes Score:
38/100
Countries Available in:

Inte tillgängligt där du bor? Lär dig hur du låser upp Netflix och titta på den här titeln.

Available Since:
2020-11-01
Trailer:
Similar Titles:

Synopsis:
Stranded after a tragic plane crash, two strangers must forge a connection to survive the extreme elements of a remote snow covered mountain. When they realize help is not coming, they embark on a perilous journey across hundreds of miles of wilderness, pushing one another to endure and discovering strength they never knew possible.
Andra titlar som visas just nu