Sleight - (2016) - Netflix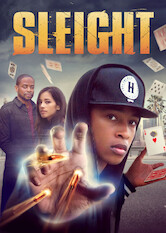 Hur du avblockerar alla filmer och TV-program på Netflix Inga saker var du är
1h29m -
Dramas
Struggling to raise his little sister on his own, a young street magician turns to drug dealing, unaware of how ruthless his supplier can be.
Director:

J.D. Dillard

Cast:

Brandon Johnson

,

Jay Walker

,

Storm Reid

,

Cameron Esposito

,

Michael Villar

,

Dule Hill

,

Donzaleigh Abernathy

,

Sasheer Zamata

,

Seychelle Gabriel

,

Jacob Latimore

Netflix Rating:

5.9/5
Rotten Tomatoes Score:
0/100
Countries Available in:

Inte tillgängligt där du bor? Lär dig hur du låser upp Netflix och titta på den här titeln.

Available Since:
2019-03-28
Trailer:
Similar Titles:

Synopsis:
A young street magician (Jacob Latimore) is left to care for his little sister after their parents passing, and turns to illegal activities to keep a roof over their heads. When he gets in too deep, his sister is kidnapped, and he is forced to use his magic and brilliant mind to save her.
Andra titlar som visas just nu