Eagle vs. Shark - (2007) - Netflix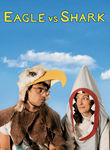 88m -
Romantik
Lily (Loren Horsley) is reserved and awkward, while Jarrod (Jemaine Clement) is an introspective oddball who's blind to Lily's affection for him – until a celebration mixed with a strange plan to exact revenge on Jarrod's high school foe brings the two misfits together. Oscar-nominated director Taika Cohen also penned this offbeat romantic comedy co-starring Joel Tobeck as Lily's brother and sounding board.
Regissör:

Taika Waititi

Casta:

Brian Sergent

,

Jackie van Beek

,

Joel Tobeck

,

Rachel House

,

Loren Horsley

,

Jemaine Clement

,

Loren Taylor

Betyg på Netflix:

3.0/5
Betyg på Rotten Tomatoes:
0/100
Tillgänglig i följande länder:

Ej tillgänglig i din region? Skaffa ExpressVPN för att låsa upp Netflix!

Tillgänglig sedan:
01 Jan 2014
Liknande titlar:

Synopsis:
In Wellington, Lily is a wallflower, inexplicably attracted to Jerrod, a loser. He's nursing a decade-long grudge against someone who teased him in high school; she's just out of a job. She goes home with him to a seacoast town where he intends to have it out with his nemesis; she meets his father, his daughter from a one-night stand, and other family members - and there's the memory of his talented (and dead) brother. Jerrod treats Lily badly, invents a relationship with a women he had a crush on years before, and gears up for his fight. Will she finally have enough and go home?
Andra titlar som visas just nu