Dumb and Dumber - (1994) - Netflix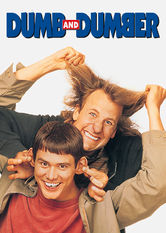 106m -
Komedier
A pair of deliriously dim-witted pals go on a madcap cross-country road trip to return a briefcase full of cash to its rightful owner.
Regissör:

Bobby Farrelly

,

Peter Farrelly

Casta:

Teri Garr

,

Hank Brandt

,

Joe Baker

,

Victoria Rowell

,

Charles Rocket

,

Karen Duffy

,

Mike Starr

,

Lauren Holly

,

Jeff Daniels

,

Jim Carrey

Betyg på Netflix:

3.2/5
Betyg på Rotten Tomatoes:
0/100
Tillgänglig i följande länder:

Ej tillgänglig i din region? Skaffa ExpressVPN för att låsa upp Netflix!

Tillgänglig sedan:
01 Nov 2014
Liknande titlar:

Synopsis:
Harry and Lloyd are two good friends who happen to be really stupid. The duo set out on a cross country trip from Providence to Aspen, Colorado to return a briefcase full of money to its rightful owner, a beautiful woman named Mary Swanson. After a trip of one mishap after another, the duo eventually make it to Aspen. But the two soon realize that Mary and her briefcase are the least of their problems.
Andra titlar som visas just nu